by Carolyn Thomas   ♥   @HeartSisters
Fun Fact:  we know that people who volunteer in their community feel generally more hopeful and experience fewer symptoms of depression and anxiety compared to non-volunteers. This cheery conclusion may make you wonder, as Washington Post reporters did:
"But does volunteering make people happy, or are happy people simply more likely to volunteer?"    
This is an important question for heart patients, or anybody living with a chronic and progressive illness. Personally, I grew up in a family of volunteers, and was an active community volunteer myself as an adult, and also managed large teams of volunteers for a non-profit organization. But since my heart attack and subsequent diagnosis of coronary microvascular disorder, I've essentially stopped all volunteering jobs.
Or rather, I should say I've stopped signing up as a volunteer.
If I consider the countless unpaid hours I've spent doing my "Heart-Smart Women" presentations, writing articles about women's heart health, and responding to thousands of reader comments here on Heart Sisters, I'm likely one of the busiest volunteers I know! But due to ongoing cardiac symptoms of refractory angina, I no longer have the energy to do the kind of public volunteering I did for decades (i.e. any volunteer role that requires too much thinking. Or running. Or changing out of my jammies. . .) Lucky for me, volunteering can take many forms.
My theory on volunteering is that most longtime volunteers keep volunteering because they feel like, on balance, they're getting more out of the experience than they put in.  (If that balance shifts, you'll see volunteers quit).
Researchers tell us that when longterm volunteers do stay (as I did for one of my favourite volunteer stints – running the concession at our historic Belfry Theatre, where my nametag proudly announced: "Volunteer Since 1986!"), they become happier over time. And you don't need to already feel happy to benefit from doing good for others. In fact, some research suggests that people who start out with lower levels of wellbeing may even get a bigger boost from doing good than those with higher levels of wellbeing.  The same research concluded:
"Compared to people who didn't volunteer, people who had volunteered in the past year were more satisfied with their lives and rated their overall health as better. Additionally, the researchers found that people who volunteered more frequently experienced greater benefits: Those who volunteered at least once a month reported better mental health than participants who volunteered infrequently or not at all."
Doing good for others is good for us!  But doing good is not limited to signing up for weekly volunteer shifts.
An interesting mental health study at Ohio State University gave research participants a choice of three available ways to participate:
group therapy
mindfulness exercise
helping others
The study found that performing acts of kindness for others led to improvements that were not seen in the two other therapeutic techniques.
Most importantly, the kindness option was the only intervention tested that helped people feel more connected to others, said study co-author Dr. David Cregg, who led the research team:
"Social connection is one of the ingredients of life most strongly associated with wellbeing. Performing acts of kindness seems to be one of the best ways to promote those connections."
The research also revealed why performing acts of kindness for others worked so well:  it helped people take their minds off their own symptoms – especially for those feeling depressed or anxious.
This finding also suggests that one intuition many people have about depression may actually be wrong:
"We often think that people with depression have enough to deal with, so we don't want to burden them by asking them to help others. But these results run counter to that,"  said Dr. Cregg. "Doing nice things for people and focusing on the needs of others may actually help people with depression and anxiety feel better about themselves."
Action For Happiness (AFH) is a UK-based non-profit movement that's also keen to help us take action to create a happier and kinder world, together. (Their patron is the Dalai Lama, just to give you an idea of the supporters they have attracted). Their Ten Keys To Kindness are based on latest research, reinforcing in a clear and user-friendly fashion much of what Dr. Cregg's team has also reported from their research.
The first AFH key, for example, is simply called GIVING, summed up like this:  "If you want to feel good, do good."
"What goes around comes around – and with kindness it really does. Research shows that being kind to others increases our own levels of happiness as well as theirs. What's more it has a knock-on effect – kindness is contagious, so it makes our communities nicer places to be.  And when we do kind things for others, it literally activates the brain's 'reward centre' and that feels good. It can take our minds off our own worries, too.
"Our acts of kindness might be for strangers, family, friends, colleagues or neighbours. They could be old or young, nearby or far away. It could be a one-off spontaneous gesture or something we do regularly. It could be a compassionate response in a time of crisis or need, or simply because it's a nice thing to do."
AHF cites studies showing that when we do something kind, both the recipient and other people who witness that kind act are more likely to be kind themselves – so our kindnesses are amplified.
A word here about balance, however.
Helping is generally associated with increased happiness and improved health, as AHF explains, but feeling obligated or overly burdened by it can be detrimental, as can be the case for long-term carers. If you are a carer, taking care of your own wellbeing matters – for yourself and for the people you're helping. Even small actions that give you a quick break or a boost can help you sustain your health and care for others.
Sometimes, we can choose to step away from a helping role (as I was able to do) but sometimes that's just not possible (if you're a family caregiver, for example). It's important to seek help, big or small, when you need it.  For more on setting good personal boundaries and saying NO, read: Scope Creep: When NO Means Maybe, and Maybe Means YES.
And even better, it's important to say YES to help that is offered to you. When your friends or neighbours ask "What can I do to help out?", have a list on hand of practical errands or tasks that you could really use some help with.
Many of us may feel reluctant to be a bother, or to put other people out when they offer us help. But remember what all that research says? We're actually helping other people feel better by allowing them to be kind to us!  And people wouldn't offer to help if they didn't really wish they could do something.
So say "Yes please!" and make them – and yourself – happier!
Finally, here's an example of one of many free resources from Action for Happiness: a printable monthly calendar of small daily tips to stay connected through kindness. Almost all of these seem absolutely do-able – yes, even on a bad day when your symptoms may feel like you can't do much at all.
Images: Action for Happiness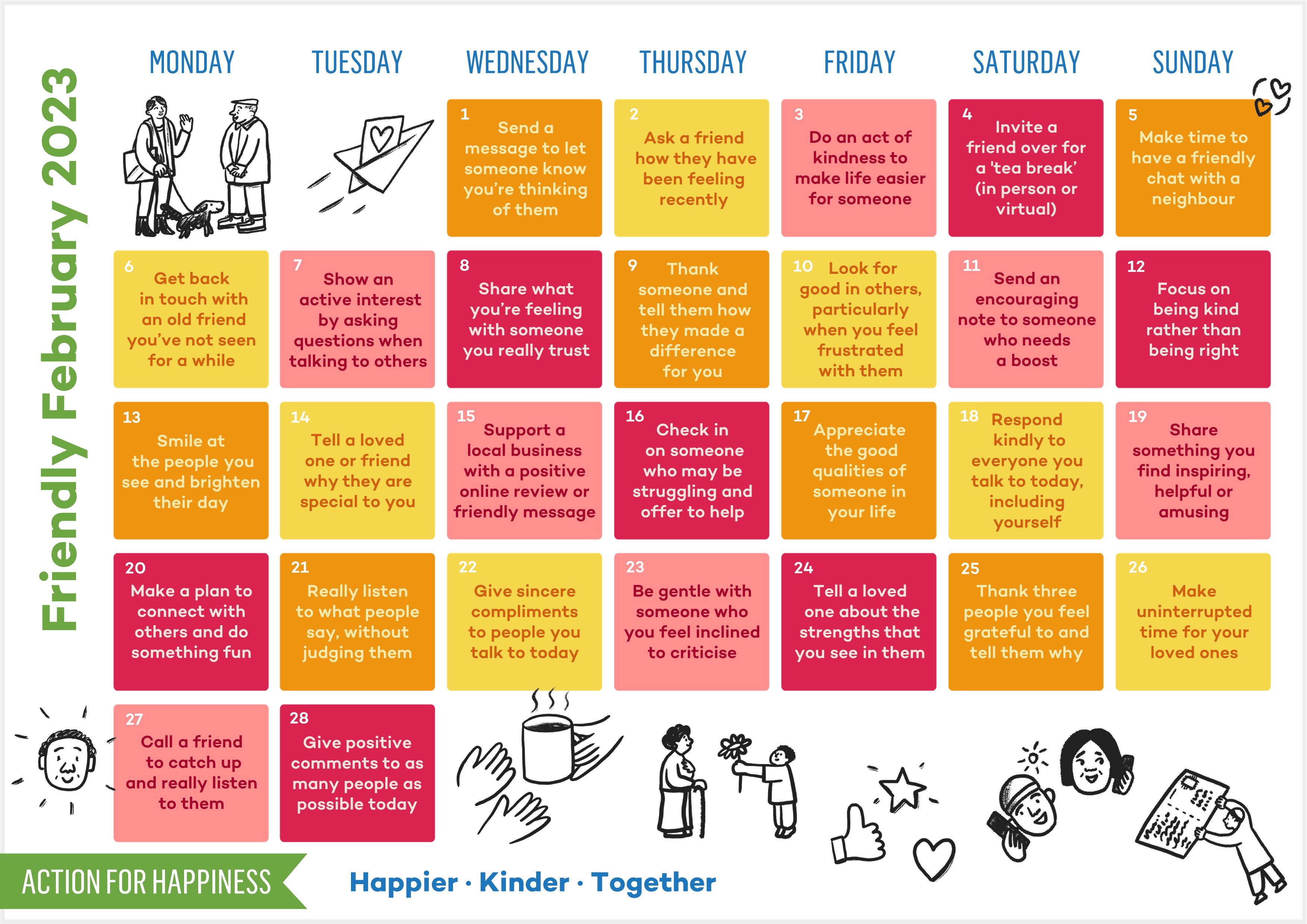 ♥
Q:  How has doing acts of kindness for others helped you?
.
NOTE FROM CAROLYN:   I wrote more about the importance of maintaining social connections after a cardiac diagnosis in my book, "A Woman's Guide to Living with Heart Disease" . You can ask for it at your local bookshop, or order it online (paperback, hardcover or e-book) at Amazon – or order it directly from my publisher, Johns Hopkins University Press (use the JHUPress code HTWN to save 30% off the cover price).
See also:
–Unlikely companions: grief and gratitude
–The importance of planning for everyday joy
-Social isolation/loneliness is hurting your heart